Right after Thanksgiving, many people take advantage of the Black Friday sales which mark the start of the holiday season. There are so many things to do in Houston to get into the season spirit, enjoy from beautiful light displays to Christmas carols, ice skating and much more.
December 14 to January 5. Open every evening from Wednesday through Sunday. Visit at 6003 Memorial Dr. Christmas Villages is a beautiful place.
Located in 14 acres of gardens in the River Oaks area, come and get into the spirit of Christmas at the Bayou Bend Collections and Gardens. The bridge will take you through thousands of Christmas lights and you can enjoy many activities like the snowball, a handcrafted model train that circles around the 12 Ft tall Christmas tree, Carols and many games for children and adults, Pictures with Santa and tour the historic Ima Hogg's mansion with live actors and Christmas decorations. Come by the Shop at The Bayou Bend to get your holiday gifts.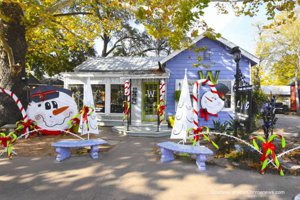 Every weekend until December 23 enjoy many family activities. Free carriage rides choir and dance performances, petting zoo and of course Santa will be there. Every weekend enjoy many family activities. Free carriage rides choir and dance performances, petting zoo and of course Santa will be there.
Until January 13, 2019, the zoo is transformed this time of the year into a winter wonderland. Tour this 15 mil LED lighting path that illuminates the old oak trees to light your way
Every Saturday in December travel through Christmas past and enjoy the 100 year of customs and decorations of Texas Christmas traditions.
Presented by The Houston Symphony. Come and enjoy a unique and awesome experience.Familiar holiday songs that impart the magic of the season along with a twist. Fans will enjoy "Glad Tidings," which is a musical and narrative telling of the Christmas story packed with classic festive carols.
Open Until January 27, come and enjoy under the downtown lights the spirit of the holidays. Write a letter to Santa and then drop it on the big onsite big red mail box.
Let's celebrate he magic of Christmas at one of the best outdoor displays in the nation. Featuring over 2.5 million lights and a range of animated displays. This wonderful show offer something for everyone. Great for kids and adults. Open until January 1, 2019.
Tomball German Christmas Market And Festival
December 7-9, 2018
Come and enjoy a Texas German Christmas celebration in downtown Tomball. Live musical performances, wine, beer, kids games and much more. What a great opportunity to get some of those hard to find Christmas gifts.